THE SALSA CLUB SCENE
Club Salsa is Sydney's biggest Latin promoter.
We run some of the best Salsa venues in town. From trendy Salsa bar, to large venue with awesome waterfront location and huge dance floor, we have the biggest selection of Salsa hot spots to choose from.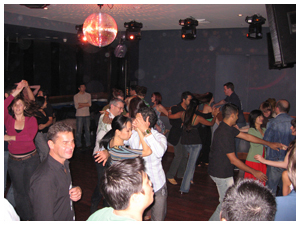 Why is Club Salsa so popular in Sydney?
Hot music & the best DJs!!
No where else in Sydney will you find better
Salsa music! Over the years Club Salsa has
built its strong reputation by hiring or training
only the best Salsa DJs or premium live bands.
It is full-on, pure Salsa all night. The music is
often the latest from New York, Miami, Cuba,
Puerto Rico and Colombia. Club Salsa's DJs
set the trend for everyone else to follow.
Highest concentration of top dancers
This is the place where you'll find the local Salseros. The best place to spot top Salsa dancers in Sydney is here! These dancers often come later at night when you get a little more space on the dance floor. Catch them whenever you can and see whether you can copy some of their flashy moves!
Thinking about coming along to one of our venues but wondering what kind of people you'll meet?
Or you may be thinking:
I'm a single woman, is it safe for me to turn up by myself?
I'm new to Sydney & don't know anyone - are the people friendly?
I'm not into "typical" seedy nightclubs or drugs, is this club a safe place?
I'm not a good dancer, will I feel left out?
I'm an overseas visitor, how can I get into the local Salsa scene?
Well, over the years we have gotten to know our patrons quite well. Our market research surveys tell us the following facts about our patrons:

They are mostly 20 to 35 years old, with some a little younger & older.
Most are professionals.
There is an almost equal balance of women & men.
75% have tertiary qualifications or greater.
They come from diverse ethnic backgrounds.
Most are attracted to our venue by the music, atmosphere & dance classes.
They are generally energetic, fun-loving people looking for a great night out in a friendly club setting.
We are also proud to note that over the years our venues have had no cases of violence or drug related problems. We're sure you'll enjoy your time with us & we'll always do our best to keep your Salsa experience as nothing short of fantastic! So come on down & check it out for yourself!
For more information, please contact us on 0406 955 447 or info@clubsalsa.com.au