New York gave birth to a unique style of Salsa dancing. Along with LA style, it is one of the most popular styles that can be seen around the world, from London to Japan, Italy to San Francisco. In clubs, classes and stage shows, the influence of New York style Salsa is everywhere. Just ask anyone who has been to some of the biggest Salsa events like the Bacardi Festival in Puerto Rico, or the West Coast Salsa Congress in L.A. They will tell you that many of the shows are strongly influenced by New York style Salsa.
more »
« less
Why is New York style Salsa so popular?
Firstly, it looks great! Specifically, it makes the woman look good. Many New York style moves display the woman beautifully. The moves are stylish and the woman is always showcased as the centerpiece of the dance. Girls love it for the attention they get, and guys love it because making their partner look good makes them look good too! Any style of dancing that makes the dancers look good will inevitably be popular. This is one reason why New York style moves have been so frequently adopted by Salsa performers throughout the world in their stage shows and demonstrations.
Secondly, the moves, or turn patterns as they are called in New York, are very simple and effective. Rather than having complicated entwining turns like the LA style, the patterns are straightforward and the steps are simple. It is this simple elegance that makes it also easy to learn. It is often said that the best dance moves are the simplest moves that make you look great!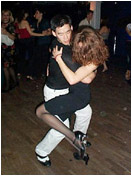 How is New York style Salsa different from Cuban style Salsa?
Firstly, Cuban style footwork involves a lot of circular motion, where couples walk around each other while performing various turns. In New York style, on the other hand, there is a lot of in-line cross body leads where couples constantly swap position in a to-and-fro fashion, creating a dynamic tension between them. Secondly, Cuban style turn patterns can get intricately complex and involve many difficult arm movements. New York style turn patterns, on the other hand, are fast and simple. Furthermore, New York style has many spins for the girls as well as the guys. The spins are fast and flashy, often creating a visual spectacle that freezes onlookers in awe.
Where did New York style Salsa come from?
In New York, Salsa is also known as "Mambo". This reflects on the origins of Salsa dancing in New York City. New York style Salsa dancing started as Mambo. Eddie Torres, "the king of Mambo dancing", used to perform on the same stage as Tito Puente, the "Mambo King" himself. Today, Eddie is the most famous Salsa teacher in New York City, passing on the traditions of Mambo to modern Salsa dancing.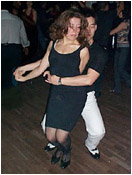 New York style Salsa is also a perfect example of how Salsa blends in other styles of dancing. In the early days of Mambo, there were not many turns or moves. As the dance evolved, however, it started to borrow moves from manyother types of dance such as West Coast Swing and Hustle.
What is dancing on "2"?
One of the unique features of New York style is "dancing on 2". The basic Salsa rhythm is based on 8 measures. This is why we normally count, "one, two, three, pause and five, six, seven, pause". When we start our first step on the first count, we call that "dancing" or "breaking on 1". When we start our first step on the second count, we called that "dancing" or "breaking on 2".
In New York, dancers exclusively use the "dancing on 2" technique. When you switch to dancing on the 2, you have to adjust your body rhythm completely. You need to carefully listen to the second beat in the music and train your body to follow that "2" beat. This gives you a completely different interpretation of the music. For those dancers who can make the transition, it opens up a completely new world of music and dance enjoyment.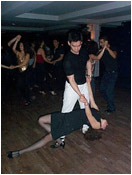 What are "Shines"?
"Shines" simply refers to footwork, or the intricate footwork pattern dancers display when they break away from their partner in the middle of their dance. "Shines" gets its name from the fact that the dancers will polish their shoes to make them shine in order to show off their footwork! Shines are very popular in New York and L.A. In New York, it is also known as "Mambo Shines". There are hundreds of shine variations, some are well known and others are challenging & done by only a few dancers. The number of shines available is endless, limited only by the imagination and creativity of dancers.
« less